S o next year I'm going to run 2,000 miles.  At least half of those miles will be ran at races or parkruns.  Do you know how many races it takes to run 1,000 miles? Neither do I.  So far I have 62 races and 40 parkruns on the list but I still have another 229.6 miles to go to get to the total.  That's 17.5 half marathons or 37 10ks so I'm going to need to add at least a few more marathons on to my list that has 10 marathons and two ultras already.  Yes, I do realise how crazy it sounds but this is what I'm going to do.  Some of the races may change (Las Vegas marathon is a bit of a pipe dream) but the miles won't.  I'm doing all of this for MS, a cause that is very important to me, and it may be the craziest idea ever but I'm determined to succeed.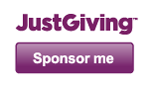 Some people live for today.  I race for today.  If I can't run any more in a few years because I'm stuck on the sofa more often then I can move then at least there won't be many races left for me to regret never getting able to do.  I don't suppose there's many of us that have been trapped in our own heads completely unable to move.  All that you have (once you stop panicking that you can't move) is your own thoughts and I get through it by telling myself that when I can move I'm not going to stop because who knows how long it will be until the next time I get stuck with my crazy mind (and it is pretty mental, just look at this idea).  Anyone who has known me for a long time will know that I used to give up a lot if I thought I couldn't do something.  Getting ill may completely suck in a hundred different ways but it made me into a much better person. I never ever question what is achievable anymore because there are no limits.  Everyone is capable of anything.
I may not be able to race 1,000 miles next year but I'm certainly going to try.  I have a back up plan too, I'll add virtual races for any race that I'm too ill to run.  My last virtual race of the year will be the one for the Virtual Run World medal (Their medals are all amazing, you can find more of them on my other website Medal Watch) above because it sums up what my 2016 will be.  I might even call it the Never Say Never 1,000 Miles.
This is the list so far but it will be getting longer.
| | |
| --- | --- |
| 5 | New Year Run Orlando |
| 3.1 | WDW 5k |
| 6.2 | WDW 10k |
| 13.1 | WDW Half |
| 26.2 | WDW Marathon |
| 26.2 | Cakeathon |
| 6.2 | Hyde Park Winter Run |
| 6.2 | Mad Dog 10k |
| 10 | Rhyl 10 |
| 26.2 | Groundhog Marathon |
| 13.1 | Liverpool Half |
| 20 | Ashby 20 |
| 47 | Manchester 2 Liverpool |
| 26.2 | Manchester Marathon |
| 26.2 | London Marathon |
| 6.2 | Liverpool Spring 10k |
| 13.1 | May the 4th Half |
| 3.1 | Liverpool RnR 5k |
| 26.2 | Liverpool RnR Marathon |
| 26.2 | Giant's Head Marathon |
| 13.1 | BTR TTOM – Southport Half Marathon |
| 6 | BTR TTOM – Thurstaston Multi-Terrain |
| 10 | BTR TTOM – Sustrans Cycle Trail |
| 5 | BTR TTOM – 5 miler |
| 6 | BTR TTOM – Knowsley Cross Country |
| 12 | BTR TTOM – Wirral Coastal Run |
| 62 | Race to the stones |
| 5 | Sefton Park 5 |
| 13.1 | EHM Half |
| 1 | Livewire Mile |
| 5 | BRT Whistle |
| 8 | BRT Whistle |
| 13.1 | BRT Whistle – Wirral Half |
| 3.1 | Disneyland Paris 5k |
| 13.1 | Disneyland Paris Half |
| 26.2 | Chester Marathon |
| 3.1 | Avengers 5k |
| 6.2 | Avengers 10k |
| 13.1 | Averngers Half |
| 26.2 | Rock n Roll Las Vegas marathon |
| 26.2 | Liverbird Marathon |
| 128 | Parkruns x 40 |
| 16 | Mystery 5k x 5 |
| 19.2 | Seaside Races x 6 |